Books
by Joshua Benavides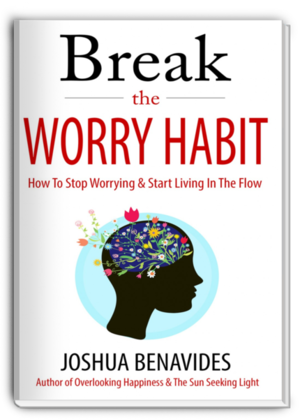 Break The Worry Habit
how to stop worrying & start living in the flow
Unlike most self-help books out there, this book reveals that we do not need to manipulate the contents of our thinking in order to break free from worry and fear.  It reveals how to go beyond the mind and bring your true nature into clear view. It's in this light of discovery that all worries, fears and psychological suffering lose their grip on present-moment experience.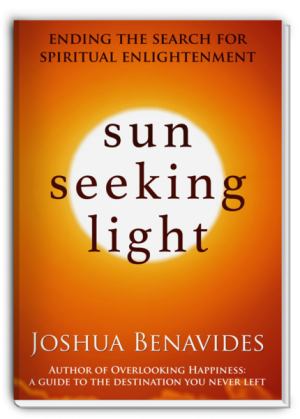 The Sun Seeking Light
ending the search for spiritual enlightenment
The ultimate aim of all spiritual enlightenment traditions comes down to one thing: Knowing who and what you really are. Most spiritual books add more concepts and philosophy about what spiritual enlightenment is. Instead of giving you more concepts, this little book points directly to Essence, thus giving you a clear and direct experience of your true nature.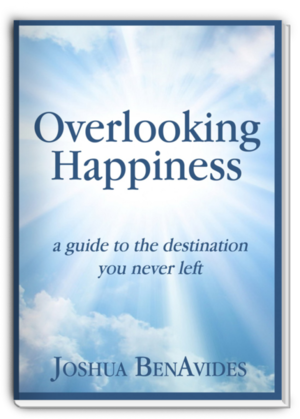 Overlooking Happiness
a guide to the destination you never left
What if everything we've learned about happiness is wrong? We have all been misled to believe that happiness is the result of what we do, have or become, when in reality, happiness is our natural state prior to thought. This little book pulls back the layers of false assumptions we have about happiness that keep us struggling and seeking for happiness in all the wrong places.

"Joshua, has touched the core of the spiritual life in this wonderful writing. Very illuminating. A must read book!"
– Peter Ragnar, author of The Unveiled Mystery of Self-Mastery
"This book is filled with effective and succinct spiritual pointers. It offers a collection of little gems that are actively illuminating the direct path to pure awareness."
– Jac O' Keeffe, author of Born To Be Free
"In this short book, Joshua provides us with an incredibly clear and powerful set of verses that remind us of who we are and what is true. The simplicity of each verse truly demonstrates how clearly Joshua sees the nature of mind and suffering. The energy coming from each verse is so potent that we have almost no choice but to feel the inherent peace that the words are pointing to. I highly recommend giving it a read."
– Noah Elkrief, best-selling author of A Guide To The Present Moment
"The Sun Seeking Light brings to the surface questions we've all had and challenges our entire belief system while offering a key that unlocks the door to authentic happiness."
– Adam Collins, founder and CEO of Social Strategizer.com
"This book is like a modern day addition to the Upanishads in that it's an experiential commentary on what IS. This book is a delightful doorway to That which is forever present to all who care to look behind the veils of illusion that hold us hostage in the mind. Treasure the moment with these words and your awareness will automatically transform"
– Michael Mackintosh, founder of Awakening Academy
"In this short and inspiring read, author Joshua BenAvides guides you through simple but practical exercises (questions, really) in order for you to discover who you really are. In so doing I was able to clearly see how my suffering and so-called problems are truly self-imposed. As a recovering type A overachiever, I appreciated Joshua's message that I can stop pushing, achieving and striving…because I'm already where I need to be! If you are ready to stop torturing yourself with thoughts of yesterday, tomorrow, or what might have been, you need to read this book."
– Amy Grams, author of The Energy Cure
"I absolutely loved this book. It reminded me of the simplicity that can exist every day in our lives when we allow it. It's so easy to get caught up in the day to day expectations of life that we are taught and to not realize… or to forget, that what we want most has always been right in front of us. This author has a profound way of communicating how we've been misled about happiness and why we struggle to have or be what we think will "bring us" happiness. His words make sense. The type of 'A-ha' moments you can gain from this book will be life changing. I will read this book again and again through the years as a reminder to slow down, be present in today, let go, enjoy and relax… not just because I know I should; but because as Joshua BenAvides teaches, it is what I am here to do. I highly recommend this book."
– Tara L. Gesling, best-selling author of 180 Degree Wellness
"A must have for everyday spiritual lifting and guidance. I would dare even the most skeptical of readers to come away without wanting more. I have been a long time fan of Joshua's and this in my opinion this is a master piece. What a wonderful gift to give, thank you Joshua, thank you!"
– Susan Hays
"I have been bringing these verses into my practice and they are so peaceful and powerful. In drinking in these verses I realize that there is nothing to figure out and there is so much to be grateful for. Every time I re-read a verse, I realize a new depth of understanding."
– Rebecca Schmitz
"This inspirational collection is a book you can sit with for minutes or hours, pondering the deeper meaning behind the words. The pieces are beautiful in their brevity, providing the material to get the wheels turning. It addresses the true nature of enlightenment, showing the reader that it's not finding, becoming, or changing yourself – because you already ARE that which you seek. You just need to remember that, something we seem to have forgotten in our busy rush to be, do, and have in conjunction with the demands of today's society. This beautiful book will help lift you out of any gloom or funk you dig yourself into. I have so many favorites, I know I'll continue returning for more!"
– Nicole Scholtz
"Joshua has channeled something truely profound, so simple, and so moving!! Each verse is a true gem that I wanted to savor, Many of which I want to come back to over and over again. His verses invite us to examine all we think, see, and feel…the result of which has the power to transform our lives."
– Mathew Garrity
"A wonderful tool, with profound insights. This actually blew my mind so much that typing about it is difficult. Highly recommend for anyone who questions their essence, purpose, path and wants to do/be all those things they believe spirituality will bring them."
– Ads Henry
"This eloquent little book is profoundly resonant and deeply comforting. Each passage carries within it a seed of luminosity that sinks beneath the actual words to a place of wordless knowing, gently opening both mind and heart. This is a book that will surely change lives! I can already feel it beginning to change mine…"
– Melissa Middleton Coogan
"This book is one of the most empowering reads I have experienced in a very long time. A must read for anyone who is interested in experiencing the truth. Joshua's poetic writing style takes powerful, deep and often complex spiritual teachings and makes them understandable and yet thought provoking. I found myself saying repeatedly… "oh…I get it!" My perspective of myself and my experiences is forever changed."
– Mary Shackelford
"Joshua has given such a gift. A gift for us to sit in the stillness of who we are….to quiet the thoughts and contemplate. The gift of releasing resistance and to experience what we already know, allowing us to re-member. Thank you, Joshua"
– Wendy Mackinnon
Experience More Freedom, Growth & Clarity Now!
We ❤️ your privacy and will never share your info with anyone. You can cancel your subscription anytime.